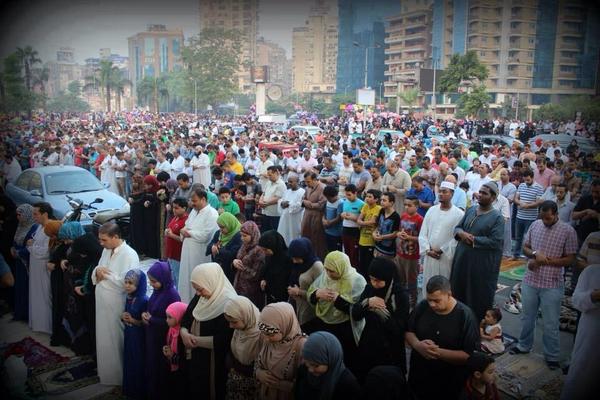 Only now in Egypt .. and as usual soon in many other countries ..
Unfortunately, the supporters of political Islam claim that the phenomenon of multi-gender prayer had invented after been driven from powers at Egypt.. As usual, the fallacy of history is some of their tactics.. They know very well that people forgot the events by time.. Egypt's Muslim Brotherhood had created "Square of Mustafa Mahmoud's Mosque" ..
That famous Square have seen this mixed prayer for several years ago, where this arena has become a stronghold of every misleading and fallacies religious slurs.. led by some "Minimis" who had read some of the yellow books, deliberated some of views of anarchism, and learned from some repeated opinions of ignorant religious politicians ..
Thus they invented the mixed prayer, which was exploited by a funny group in the United States, then re-exported to Egypt as a symbol of modernity and modernity in Islam ..
It seems that those who claim as Arabic literates, especially in Egypt, have to take a positive attitude towards restricting the festivals at the arena of an honorable scientist and writer, who if he would known the future; he would change his mind about building an innovative multipurpose mosque .. Instead of being a beacon of Science and Faith, it has become a breeding ground for ignorance, chaos and disorientation ..
فقط الآن في مصر.. وكالعادة قريباً في عديد من البلدان الآخرى
للأسف يتداول أنصار الاسلام السياسي أن الاختلاط في الصلاة ظاهرة أتت بعد طردهم من سدة الحكم ، وكالعادة فان مغالطة التاريخ هي بعض من مبادئهم.. هم يعلمون جيداً أن الناس تنسى الأحداث مع التقادم.. إخوان مصر هم من صنعوا ظاهرة ساحة مصطفى محمود
ساحة جامع مصطفى محمود الشهيرة قد شهدت هذا الاختلاط منذ عدة سنوات ، حيث أصبحت هذه الساحة معقل كل المخالطات والمغالطات والإفتراءات الدينية.. يقودها بعض " الروبيضات" ممن قرأوا بعض الكتب الصفراء ، وتداولوا بعض الآراء الفوضوية ، وتعلموا من بعض معتادي الفتوى من جهلاء الاسلام السياسي
هكذا تم ابتداع الصلاة المختلطة ، لكي تتلقفها مجموعة شاذة في الولايات المتحدة ، ثم ليعاد تصديرها الى مصر باعتبارها رمز الحداثة والعصرنة في الاسلام
يبدو أن على من يدّعون الثقافة من متحدثي العربية ، وخاصة في مصر ، أن يتخذوا موقفا ايجابياً نحو تقييد الفاعليات في ساحة العالم الأديب الجليل ، الذي لو كان يعلم المستقبل لما سعى لبناء مسجده هذا في موقعه هذا.. فبدلاً من أن يكون مناراً للعلم والإيمان ، صار مرتعاً للجهل والتيه والتوهان